Upcoming Releases: Comics For 4/2/2014
Posted on:
March 30, 2014
/
Tons of new books and graphic novels coming next week folks. You can click on each link for the individual cover for any particular book. Looks like we all have a ton of reading ahead of us which is a good thing! Yay for new Comic Book day!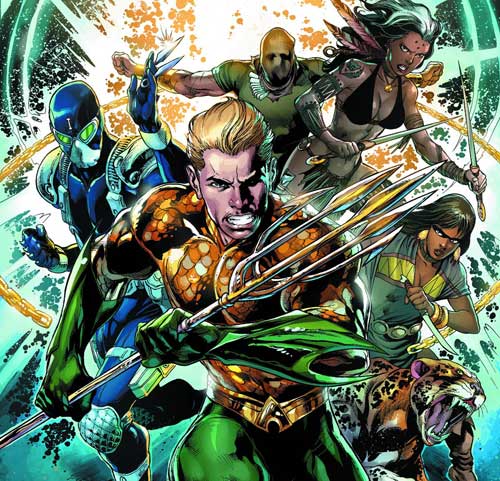 AQUAMAN AND THE OTHERS #1
Every week, PREVIEWSworld announces which comics, graphic novels, toys and other pop-culture merchandise will arrive at your local comic shop. The products will be on sale in comic shops on the indicated date. This list is tentative and subject to change. Please check with your retailer for availability.
PREMIER PUBLISHERS
ITEM CODE
DESCRIPTION
PRICE
DARK HORSE COMICS
FEB140089
1 FOR $1 ITTY BITTY HELLBOY #1
$1.00
FEB140068
ANGEL AND FAITH SEASON 10 #1 MAIN CVR
$3.50
FEB140023
BAD BLOOD #4
$3.99
DEC130109
BRODYS GHOST TP VOL 05
$7.99
DEC130099
BUZZKILL TP
$14.99
NOV130071
EDEN TP VOL 14 ITS AN ENDLESS WORLD (MR)
$12.99
FEB140082
EDGAR ALLAN POES PREMATURE BURIAL ONE SHOT
$3.99
DEC130108
FATIMA BLOOD SPINNERS HC
$19.99
DEC130085
FEAR AGENT TP VOL 01 RE-IGNITION (2ND ED)
$9.99
AUG130117
GRIMM PLAYING CARDS
$4.99
FEB140080
GRINDHOUSE DOORS OPEN AT MIDNIGHT #7
$3.99
FEB140024
JUICE SQUEEZERS #4
$3.99
FEB140075
LOBSTER JOHNSON GET LOBSTER #3
$3.99
DEC130144
LONE WOLF & CUB OMNIBUS TP VOL 04
$19.99
DEC130142
NG EVANGELION SHINJI DETECTIVE DIARY TP VOL 02
$9.99
FEB140056
TERMINATOR SALVATION FINAL BATTLE #5
$3.99
FEB140071
VEIL #2 (MR)
$3.50
DC COMICS
FEB140189
ACTION COMICS #30 (DOOMED)
$3.99
FEB140166
AQUAMAN AND THE OTHERS #1
$2.99
DEC130307
BATMAN 66 HC VOL 01
$19.99
JAN140349
BATMAN BEYOND BATGIRL BEYOND TP
$14.99
FEB140216
BATWING #30
$2.99
FEB140201
DETECTIVE COMICS #30
$3.99
FEB140203
DETECTIVE COMICS #30 COMBO PACK
$4.99
FEB140175
EARTH 2 #22
$2.99
FEB140287
FAIREST #25 (MR)
$2.99
JAN140369
GIRL WITH THE DRAGON TATTOO TP (MR)
$24.99
FEB140178
GREEN ARROW #30
$2.99
FEB140220
GREEN LANTERN #30
$2.99
FEB140222
GREEN LANTERN #30 COMBO PACK
$3.99
JAN140379
HINTERKIND TP VOL 01 (MR)
$9.99
DEC130297
JUSTICE LEAGUE HC VOL 04 THE GRID (N52)
$24.99
JAN140339
JUSTICE LEAGUE TP VOL 03 THRONE OF ATLANTIS (N52)
$16.99
FEB140273
LOONEY TUNES #218
$2.99
FEB140230
MOVEMENT #11
$2.99
FEB140231
STORMWATCH #30
$2.99
JAN140353
SUPERMAN RED SON TP NEW EDITION
$17.99
FEB140232
SWAMP THING #30
$2.99
FEB140295
TRILLIUM #8 (MR)
$2.99
FEB140171
TRINITY OF SIN THE PHANTOM STRANGER #18
$2.99
FEB140244
VAMPIRE DIARIES #4
$3.99
DC COMICS/DC COLLECTIBLES
NOV130289
DC COMICS SUPER VILLAINS BIZARRO AF
$24.95
NOV130288
DC COMICS SUPER VILLAINS DEATHSTORM AF
$24.95
NOV130292
WONDER WOMAN ART OF WAR STATUE BY GEORGE PEREZ
$79.95
IDW PUBLISHING
FEB140456
GATE WAY #4 (FORMERLY PURGATORY)
$3.99
JAN140429
GI JOE SPECIAL MISSIONS #13
$3.99
DEC130396
JUDGE DREDD CAM KENNEDY COLLECTION HC VOL 02
$49.99
JAN140492
JUDGE DREDD MEGA CITY TWO #3
$3.99
FEB140377
MONSTER & MADMAN #2
$3.99
JAN140462
ROCKY & BULLWINKLE CLASSICS GN VOL 01 STAR BILLING
$17.99
JAN140485
ROGUE TROOPER #2
$3.99
FEB140423
SINISTER DEXTER #5
$3.99
JAN140473
STAR TREK GOLD KEY ARCHIVES HC VOL 01
$29.99
DEC130433
STAR TREK STARDATE COLL HC VOL 02 UNDER COMMAND PIKE
$49.99
IMAGE COMICS
FEB140498
68 RULE OF WAR #1 CVR A JONES (MR)
$3.99
FEB140499
68 RULE OF WAR #1 CVR B CRAIN (MR)
$3.99
FEB140500
68 RULE OF WAR #1 CVR C BLANK SKETCH (MR)
$3.99
JAN148302
ALEX + ADA #2 2ND PTG
$2.99
JAN148303
ALEX + ADA #3 2ND PTG
$2.99
JAN148304
ALEX + ADA #4 2ND PTG
$2.99
FEB140588
APOCALYPSE AL #3 CVR A KOTIAN & FARMER
$2.99
FEB140589
APOCALYPSE AL #3 CVR B OLIVETTI
$2.99
FEB140592
ARTIFACTS #36 (MR)
$3.99
JAN140576
BLACK SCIENCE #5 (MR)
$3.50
JAN140549
CLONE TP VOL 03
$12.99
NOV130418
ELEPHANTMEN #55 (MR)
$3.99
FEB140485
FIELD #1 (MR)
$3.50
JAN148309
FUSE #1 2ND PTG (MR)
$3.50
FEB140607
INVINCIBLE UNIVERSE #12
$2.99
JAN148000
NOAH LTD S&N HC ED
$200.00
DEC130586
PRETTY DEADLY #5 (MR)
$3.50
JAN140612
REVIVAL #19 (MR)
$2.99
OCT130621
SECRET #7
$3.50
FEB140508
SELF OBSESSED ONE SHOT
$3.99
FEB140515
SHOTGUN WEDDING #1 (MR)
$3.99
NOV130523
SIDEKICK #6 CVR A MANDRAKE & HIFI (MR)
$2.99
NOV130524
SIDEKICK #6 CVR B ANDRASOFZKY (MR)
$2.99
FEB140632
STARLIGHT #2 CVR A SIENKIEWICZ (MR)
$2.99
FEB140633
STARLIGHT #2 CVR B PARLOV (MR)
$2.99
JAN140568
WALKING DEAD ABRAHAMS ARMY T/S LG WOMEN
$19.99
JAN140562
WALKING DEAD ABRAHAMS ARMY T/S MED MEN
$19.99
JAN140561
WALKING DEAD ABRAHAMS ARMY T/S SM MEN
$19.99
MARVEL COMICS
JAN148241
ALL NEW INVADERS #2 2ND PTG MUKESH VAR ANMN
$3.99
DEC130759
AMAZING SPIDER-MAN FAMILY BUSINESS OGN HC
$24.99
FEB140794
BLACK WIDOW #5
$3.99
FEB140792
CAPTAIN AMERICA #19
$3.99
FEB140798
CAPTAIN AMERICA WINTER SOLDIER #1 DIRECTORS CUT
$4.99
FEB140810
DEADPOOL VS CARNAGE #1
$3.99
JAN140800
GUARDIANS OF GALAXY TP VOL 01 COSMIC AVENGERS
$19.99
FEB140694
INHUMAN #1 ANMN
$3.99
FEB140745
LOKI AGENT OF ASGARD #3 ANMN
$2.99
FEB140727
MAGNETO #2 ANMN
$3.99
JAN140807
MARVEL KNIGHTS SPIDER-MAN TP FIGHT NIGHT
$16.99
JAN140786
MARVELS CA WINTER SOLDIER ART OF MOVIE SLIPCASE HC
$49.99
FEB140799
MARVELS GUARDIANS OF GALAXY PRELUDE #1
$2.99
FEB140743
MOON KNIGHT #2 ANMN
$3.99
FEB140741
NEW WARRIORS #3 ANMN
$3.99
JAN148242
NIGHT OF LIVING DEADPOOL #3 2ND PTG SHAW VAR
$3.99
NOV130710
OZ HC WONDERFUL WIZARD OF OZ NEW PTG
$24.99
JAN140781
PAINKILLER JANE TP PRICE OF FREEDOM (MR)
$19.99
JAN148244
PUNISHER #1 2ND PTG GERADS VAR ANMN
$3.99
JAN148245
PUNISHER #2 2ND PTG GERADS VAR ANMN
$3.99
FEB140802
PUNISHER #4
$3.99
JAN148243
SHE-HULK #1 2ND PTG WADA VAR ANMN
$2.99
FEB140757
SHE-HULK #3 ANMN
$2.99
JAN140803
SPIDER-MAN FIRSTS TP
$34.99
FEB140797
STAR LORD TEARS FOR HEAVEN TP
$7.99
NOV130716
SUPERIOR SPIDER-MAN HC VOL 02
$34.99
FEB140774
ULTIMATE SPIDER-MAN #200 BAGLEY CVR
$4.99
FEB140775
ULTIMATE SPIDER-MAN #200 MARQUEZ CVR
$4.99
FEB140759
WHAT IF AGE OF ULTRON #1
$3.99
NOV130704
X-MEN AGE OF APOCALYPSE OMNIBUS COMPANION HC
$99.99
COMICS & GRAPHIC NOVELS
| | | |
| --- | --- | --- |
| ITEM CODE | DESCRIPTION | PRICE |
| JAN141292 | ACG CLASSICS COLL PACK ADV INTO UNKNOWN ED | $129.99 |
| JAN141291 | ACG COLL WORKS ADV INTO UNKNOWN SLIPCASE ED VOL 06 | $64.99 |
| JAN141293 | ACG COLL WORKS FORBIDDEN WORLDS SLIPCASE ED VOL 05 | $64.99 |
| JAN141295 | ACG COLL WORKS OUT OF THE NIGHT SLIPCASE ED VOL 03 | $64.99 |
| FEB141081 | ADVENTURE TIME FLIP SIDE #4 MAIN CVRS | $3.99 |
| FEB141474 | ARCHER & ARMSTRONG #19 PULLBOX MOLINA | $3.99 |
| FEB141473 | ARCHER & ARMSTRONG #19 REG LAROSA | $3.99 |
| JAN141129 | ASH & THE ARMY OF DARKNESS #5 | $3.99 |
| JAN141460 | BAR MAID #4 A CVR TUCCI (MR) | $3.50 |
| JAN141461 | BAR MAID #4 B CVR QUALANO (MR) | $3.50 |
| FEB141280 | BATTER UP CHARLIE BROWN HC | $9.99 |
| JAN141012 | BEAUTIFUL SCARS HC | $19.99 |
| FEB141396 | BEN 10 OMNIVERSE GN PARALLEL PARADOX | $7.99 |
| DEC130859 | BEST OF ARCHIE COMICS BETTY & VERONICA TP VOL 01 | $9.99 |
| JAN140872 | BETTY & VERONICA DOUBLE DIGEST #222 | $3.99 |
| JAN141260 | BLACK METAL GN VOL 03 | $11.99 |
| FEB141510 | BLEACH GN VOL 60 | $9.99 |
| JAN141376 | BLOODSHOT DLX ED HC VOL 01 | $39.99 |
| FEB140962 | CALIBAN #1 (MR) | $3.99 |
| FEB140964 | CALIBAN #1 TERROR CVR (MR) | $3.99 |
| FEB140963 | CALIBAN #1 WRAP CVR (MR) | $3.99 |
| FEB141336 | CHICAGOLAND DETECTIVE AGENCY GN VOL 06 MIDTERM NIGHTS SCHEME | $6.95 |
| FEB140967 | CROSSED BADLANDS #51 (MR) | $3.99 |
| FEB140970 | CROSSED BADLANDS #51 FATAL FANTASY CVR (MR) | $3.99 |
| FEB140969 | CROSSED BADLANDS #51 TORTURE CVR (MR) | $3.99 |
| FEB140968 | CROSSED BADLANDS #51 WRAP CVR (MR) | $3.99 |
| JAN141310 | DANCE IN VAMPIRE BUND OMNIBUS VOL 05 (MR) | $19.99 |
| FEB141035 | DEAD LETTERS #1 | $3.99 |
| FEB141250 | DF TWILIGHT ZONE #1 FAT JACKS COMICRYPT B&W EXC | $30.00 |
| JAN141312 | DICTATORIAL GRIMOIRE GN VOL 03 RED RIDING HOOD (MR) | $13.99 |
| FEB141513 | DRAGON BALL FULL COLOR TP VOL 02 | $19.99 |
| DEC130811 | FINAL PLAGUE #5 (MR) | $2.99 |
| FEB141096 | GARFIELD #24 | $3.99 |
| FEB141547 | GFT GRIMM FAIRY TALES #96 A CVR LAISO (AOFD) (MR) | $2.99 |
| FEB141548 | GFT GRIMM FAIRY TALES #96 B CVR MYCHAELS (AOFD) (MR) | $2.99 |
| FEB141549 | GFT GRIMM FAIRY TALES #96 C CVR REI (AOFD) (MR) | $2.99 |
| FEB140992 | GOD IS DEAD #10 (MR) | $3.99 |
| FEB140993 | GOD IS DEAD #10 CARNAGE WRAP CVR (MR) | $3.99 |
| FEB140994 | GOD IS DEAD #10 END OF DAYS CVR (MR) | $3.99 |
| FEB140995 | GOD IS DEAD #10 ICONIC CVR (MR) | $3.99 |
| DEC130829 | GOLD DIGGER #209 | $3.99 |
| FEB141525 | HANA KIMI 3IN1 TP VOL 08 | $14.99 |
| FEB141523 | HAPPY MARRIAGE GN VOL 05 (MR) | $9.99 |
| JAN141046 | HARLEM HELLFIGHTERS GN | $16.95 |
| JAN141296 | HARVEY HORRORS COLL PACK WITCHES TALES HC ED | $129.99 |
| SEP131279 | HARVEY HORRORS COLL WORKS BLACK CAT MYSTERY HC VOL 04 | $47.99 |
| JAN141298 | HARVEY HORRORS SOFTIE COLL PACK | $64.99 |
| SEP131281 | HARVEY HORRORS WITCHES TALES SOFTIE TP VOL 04 | $24.99 |
| FEB141389 | HELLO KITTY GN SURPRISE | $7.99 |
| FEB141298 | HIDDEN CHILDS STORY OF HOLOCAUST HC GN | $16.99 |
| FEB141514 | HUNTER X HUNTER GN VOL 32 | $9.99 |
| FEB141526 | LIBRARY WARS LOVE & WAR GN VOL 11 | $9.99 |
| JAN141209 | LOCAS TP VOL 01 MAGGIE THE MECHANIC (NEW PTG) | $18.99 |
| DEC131079 | MARK WAID GREEN HORNET #11 | $3.99 |
| FEB141100 | MARTIN LUTHER KING JR LET FREEDOM RING GN | $11.99 |
| FEB141399 | MAX STEEL GN HAYWIRE | $7.99 |
| FEB141509 | NARUTO GN VOL 65 | $9.99 |
| JAN140923 | NIGHT O/T LIVING DEAD AFTERMATH TP VOL 02 (MR) | $19.99 |
| FEB141515 | NURA RISE O/T YOKAI CLAN GN VOL 20 | $9.99 |
| SEP131213 | PHANTOM COMP DAILIES HC VOL 01 1936-1937 DLX ED | $49.99 |
| FEB141402 | POKEMON BLACK & WHITE GN VOL 15 | $4.99 |
| SEP131282 | PRE CODE CLASSICS WEIRD MYSTERIES HC VOL 02 | $47.99 |
| FEB141470 | QUANTUM & WOODY #9 PULLBOX RANEY | $3.99 |
| FEB141469 | QUANTUM & WOODY #9 REG FOWLER | $3.99 |
| JAN140821 | RACHEL RISING #24 | $3.99 |
| DEC131047 | RED SONJA #8 FRISON CVR | $3.99 |
| DEC131048 | RED SONJA #8 RUFFINO CVR | $3.99 |
| FEB141190 | RED SONJA AND CUB ONE SHOT | $4.99 |
| FEB141053 | REVELATIONS #4 (MR) | $3.99 |
| DEC131068 | SHADOW YEAR ONE #8 CVR A WAGNER | $3.99 |
| DEC131069 | SHADOW YEAR ONE #8 CVR B ROSS | $3.99 |
| DEC131070 | SHADOW YEAR ONE #8 CVR C SAMNEE | $3.99 |
| DEC131071 | SHADOW YEAR ONE #8 CVR D CHAYKIN | $3.99 |
| DEC130953 | SHAHRAZAD #4 | $3.50 |
| OCT130794 | SKYWARD #6 | $2.99 |
| FEB141324 | SLEEP OF REASON GN (MR) | $30.00 |
| JAN141315 | STRIKE WITCHES MAIDENS I/T SKY GN VOL 02 (MR) | $12.99 |
| FEB141056 | SUICIDE RISK #12 | $3.99 |
| FEB141524 | SWEET REIN GN VOL 02 | $9.99 |
| FEB141337 | TAO LITTLE SAMURAI GN #1 PRANKS & ATTACKS | $6.95 |
| FEB141338 | TAO LITTLE SAMURAI GN #2 NINJAS & KNOCK OUTS | $6.95 |
| FEB141339 | TAO LITTLE SAMURAI GN #3 CLOWNS & DRAGONS | $6.95 |
| FEB141340 | TIB & TUMTUM GN VOL 02 MY AMAZING DINOSAUR | $7.95 |
| FEB141511 | TORIKO GN VOL 21 | $9.99 |
| FEB141137 | TUROK DINOSAUR HUNTER #3 | $3.99 |
| FEB141392 | UGLYDOLL GN MY HERO | $7.99 |
| FEB141527 | VOICE OVER SEIYU ACADEMY GN VOL 04 | $9.99 |
MAGAZINES
| | | |
| --- | --- | --- |
| ITEM CODE | DESCRIPTION | PRICE |
| FEB141029 | BLEEDING COOL MAGAZINE #10 (MR) | $4.99 |
| OCT131520 | COMIC BOOK CREATOR #4 | $8.95 |
| FEB141652 | COMIC SHOP NEWS #1398 | PI |
| DEC131440 | DC BATMAN AUTOMOBILIA FIG COLL MAG #29 DETECTIVE COMICS #362 | $20.00 |
| JAN141525 | DC BATMAN AUTOMOBILIA FIG COLL MAG #30 CLASSIC TV SERIES BAT | $20.00 |
| DEC131444 | DC SUPERHERO CHESS FIG COLL MAG #54 OCEAN MASTER BLACK PAWN | $16.00 |
| JAN141547 | DOCTOR WHO MAGAZINE #471 | $9.99 |
| OCT131541 | G FAN #105 | $6.95 |
| FEB141645 | HI FRUCTOSE MAGAZINE QUARTERLY #31 | $7.95 |
| NOV131454 | HOBBY JAPAN FEB 2014 | $16.60 |
| JAN141562 | LOCUS #638 | $7.50 |
| DEC131445 | MARVEL CHESS FIG COLL MAG #3 WOLVERINE WHITE KNIGHT | $16.00 |
| DEC131446 | MARVEL CHESS FIG COLL MAG #4 LOKI BLACK BISHOP | $16.00 |
| JAN141551 | MONSTER BASH #21 | $8.99 |
| JAN141539 | NON SPORT UPDATE VOL 25 #2 CAPTAIN AMERICA WINTER SOLDIER CV | $5.99 |
| OCT131515 | STAR TREK STARSHIPS FIG COLL MAG #12 AKIRA CLASS | $20.00 |
| NOV131431 | STAR TREK STARSHIPS FIG COLL MAG #13 JEM HADAR CRUISER | $20.00 |
BOOKS
| | | |
| --- | --- | --- |
| ITEM CODE | DESCRIPTION | PRICE |
| FEB141532 | BATTLE ROYALE REMASTERD SC NOVEL | $16.99 |
| FEB141533 | BATTLE ROYALE SLAM BOOK SC | $14.99 |
| FEB141067 | JIM HENSONS LABYRINTH HC NOVEL | $19.99 |
| JAN141523 | MADELINE & GENEVIEVE MINIATURE BOOK KIT | $9.95 |
| DEC131413 | MARVEL ENCYCLOPEDIA HC 75TH ANNIV ED | $40.00 |
| NOV131373 | ORIGINS OF COMICS FROM WILLIAM HOGARTH TO WINSOR MCCAY HC | $50.00 |